A New Approach to Nutrition for Diabetes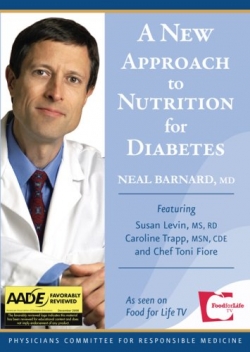 Duration
190 min ; 1 disc
Description
This DVD provides a guide to moving beyond simply managing diabetes. It will help you turn the disease around. It delivers medical results: weight loss, blood glucose control, and reduced heart disease risk, and may even reduce or prevent the need for some medications.There are three sections.

Getting Started (90 minutes) Based on his groundbreaking research, nutrition researcher Neal Barnard, MD, provides eight essential lessons for turning back the clock on diabetes through a low-fat vegan diet.
1. A New Dietary Approach to Diabetes and Stories of Success
2. New Leads on Type 2 Diabetes
3. Designing a Diet for Maximum Weight Control
4. Using the Glycemic Index
5. Keeping a Healthy Heart
6. Healthy Eating During Work, Travel, and Holidays
7. Diabetes Care from Head to Toe
8. How to Recognize and Treat Low Blood Sugar

In the Kitchen with Chef Toni Fiore(41 minutes)Chef Toni Fiore, host of Delicious TV's program Totally Vegetarian, demonstrates how to prepare fast and satisfying recipes that eliminate the need for calorie counting and restricted portions. They include great ideas for breakfast, lunch, and dinner.

Touring the Grocery Store Diabetes experts Susan Levin, RD, and Caroline Trapp, MSN, CDE, share their valuable tips about finding and preparing healthful treasures you never knew were in your neighborhood grocery store.

This empowering program offers new hope and scientifically supported guidance from a caring team committed to your success.